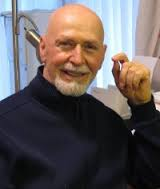 A weekend retreat with Burt Harding
March 23-25, 2018
(Friday: 7 pm to Sunday 4:30 pm)

Burt Harding, founder of the Awareness Foundation in Vancouver, offers a radical invitation to recognize the truth of our being as already whole and fulfilled. He reminds us of the love we really are beyond the personal stories we carry. In this way, we come to recognize what we have always known in our hearts – the beauty and wonder of our own true essence.
For over thirty years, Burt Harding has brought numbers of people to intimacy with pure awareness. Since Burt rarely travels outside his community in Vancouver, this workshop is an opportunity to experience his teaching firsthand in beautiful Victoria.
The theme of this workshop will be based on a quote by J. Krishnamurti on "The Silent Mind", which will be distributed to participants together with a booklet by Burt.
The weekend will be structured as follows:
Friday – what a silent mind means and its many benefits in healing, meaning and happiness.
Saturday – different methods on how to attain a silent mind.
Sunday – reinforcement and questions asked on the Silent Mind and how it answers all of life's questions.
This will be a weekend of warmth, listening to silence and joining together in joy. Short talks will alternate with experiential exercises designed to progressively ground you in the love of your own being.
Cost:
Shared accommodation (double occupancy) with meals:
Regular rate:   $250                 Early bird rate*:  $220
Private accommodation with meals:
Regular rate:   $300                 Early bird rate*:  $270
Day Commuter – with meals:
Regular rate:   $190                 Early bird rate*:  $170
Day Commuter – without meals:
Regular rate:   $140                 Early bird rate*:  $120
* valid up to 30 days before the event
Extend your weekend with a personal retreat up to three nights for a discounted rate of only $40 per night.
Persons with financial constraints maybe offered a special discount. Please contact the program manager Ralph Tiller.
Extend your stay (this is separate transaction - complete group retreat booking first)
https://krishnamurti-canada.ca/wp-content/uploads/2017/10/Burt-Harding.png
189
160
Ralph Tiller
https://krishnamurti-canada.ca/wp-content/uploads/2016/10/logo-bordered-1.png
Ralph Tiller
2017-10-26 22:53:35
2017-10-30 07:49:49
The Silent Mind