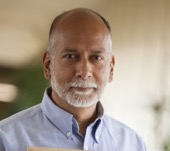 A Public Talk and Weekend Retreat with Dr. Hillary Rodrigues
August 25-27, 2017  (Friday 7 pm – Sunday 4:30 pm)
Note:  This is not an academic workshop, but an opportunity to inquire deeply in a personal and holistic way with others.
The weekend retreat and sessions will provide a venue for inquiry primarily into the nature of the self. What is the self? What are its characteristics? Why do some spiritual teachings promote self-denial, or even destruction of the ego? Our initial focus on the self will be to set the foundation for an exploration of the self's relationship to love and intelligence. We will also inquire into: What is love? Intelligence?
We will draw from the teachings of J. Krishnamurti and others to trigger our discussions and inquiry. For example, according to Krishnamurti:
"Intelligence is possible only when there is real freedom from the self, from the "me" . . . When one knows oneself as one is, without an accumulating centre, out of that self– knowing comes the intelligence which can meet life; and that intelligence is creative. . . . You will never get it through your practice of meditation, through your prayers for the "more" or your escapes from the "more". That reality can come into being only when you understand the state of your own mind, the malice, the envy, the complex reactions as they arise from moment to moment every day. In understanding these things there comes a state which may be called love. That love is intelligence, and it brings a creativeness which is timeless."
Krishnamurti Life Ahead Part One Chapter 19
Hillary Rodrigues (University of Lethbridge) is a professor of Eastern religious traditions, particularly Hindu and Buddhist philosophies and cultures. A former teacher and administrator at the Krishnamurti school that once existed at the site of the Krishnamurti Educational Centre of Canada, he has published books and articles on aspects of Krishnamurti's thought. Hillary has given invited presentations on Krishnamurti's teachings in New York, New Delhi, Victoria, and Ojai, California. His books include Krishnamurti's Insight (Pilgrims) and Introducing Hinduism (Routledge).
PUBLIC TALK
There will be an introductory talk on Friday evening, August 25 at 7:30 pm, on the overall theme of the weekend retreat. This talk will be held at the Centre and is open to the public. Suggested donation (to KECC): $15.
Interested persons can still register then for the retreat as day commuters (without meals).
Cost:
Shared accommodation (double occupancy) with meals:
Regular rate: $290                       Early bird rate*: $260
Private accommodation with meals:
Regular rate: $340                       Early bird rate*: $310
Day Commuter – with meals:
Regular rate: $190                       Early bird rate*: $170
Day Commuter – without meals:
Regular rate: $140                       Early bird rate*: $120
* valid up to 30 days before the event
Extend your weekend with a personal retreat of up to 3 nights for a discounted rate of only $40 per night.
Persons with financial constraints may be offered a special discount. Please contact the program manager, Ralph Tiller.
Extend your stay (this is separate transaction - complete group retreat booking first)
https://krishnamurti-canada.ca/wp-content/uploads/2017/04/Hillary-2017.jpg
151
170
Ralph Tiller
https://krishnamurti-canada.ca/wp-content/uploads/2016/10/logo-bordered-1.png
Ralph Tiller
2017-04-08 18:13:02
2017-04-09 16:34:14
Intelligence, Love and the Self